Taylor Hastin's walk-off home run secures the title game for the Tribe, beats Liberty 4-0
TULARE – A walk-off home run is one of the most exciting plays in sports, especially when it books a trip to a championship game. After defeating Mission Oak in dramatic fashion during the semifinal, Tulare Union sealed the deal by beating Liberty at home last Thursday to win the Division III Valley title.
In their fourth meeting of the season last Tuesday, Tulare Union trailed Mission Oak 3-1 heading into the final inning. With two strikes, two outs on the board and two runners on base, senior Mia Reynolds knocked down an RBI single to bring the score within one point. That's when power hitter Taylor Hastin stepped up to the plate. With the game on the line, the sophomore lived up to the moment. With no hesitation she slugged the ball over the fence for a walk-off home run sending the Tribe to their first Valley title game in over 10 years.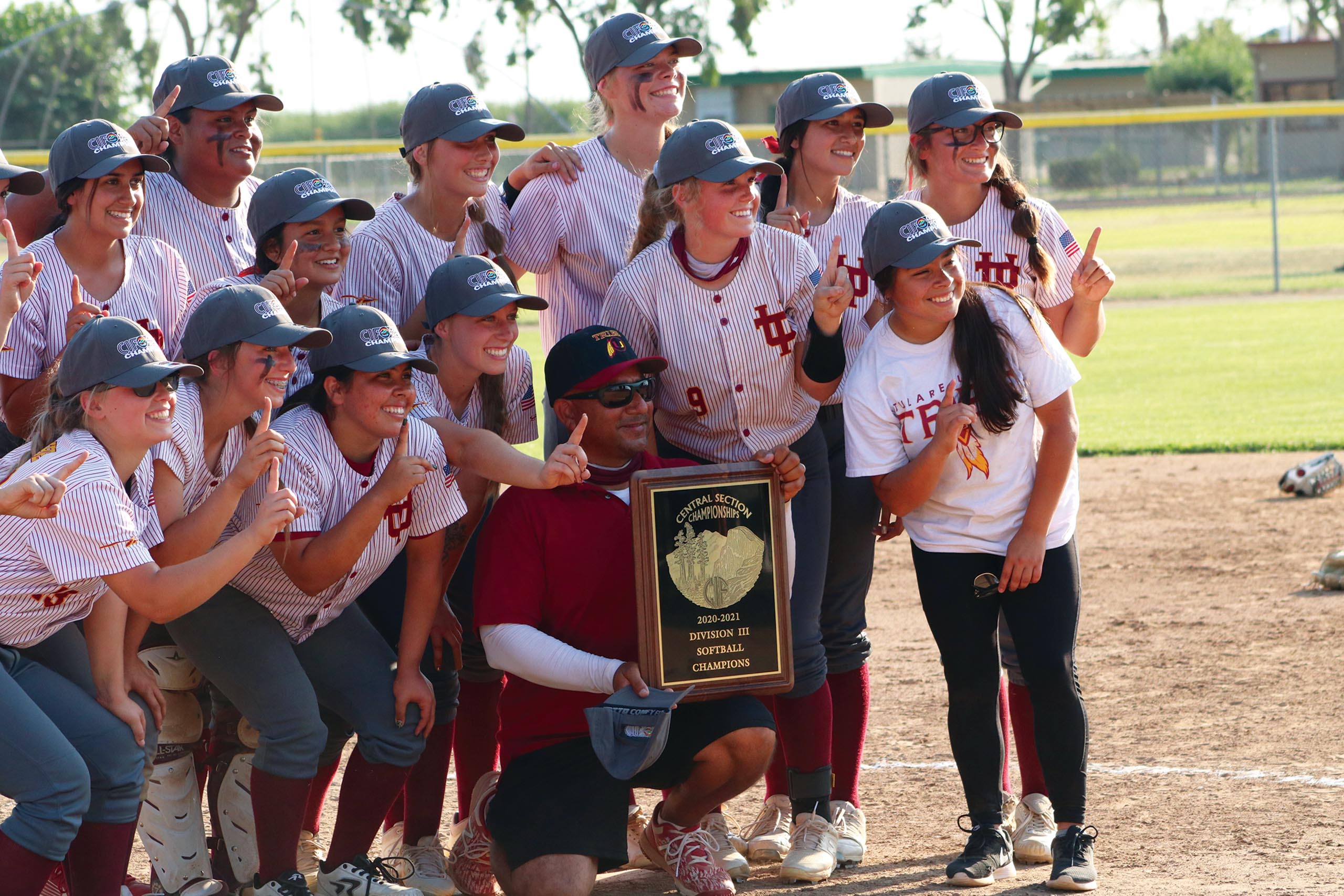 Two days after the Valley title win over Liberty, head coach Vince Rojo was still in awe of the Hastin home run that got them there. As soon as she connected with the ball, he knew it was gone.
"I was still in shock that night. We all went to dinner and we were sitting there going 'Did we really just do that?'" Rojo said. "I think by Taylor hitting that bomb against Mission Oak, we were destined for this."
After a tough semifinal game against their league rivals, Tulare Union carried that momentum to a strong win against Liberty. Reynolds, the team's Most Valuable Player, was phenomenal on the mound. She allowed just three hits and no runs. She's also the team's leader in batting average but only went 1-4 at the plate against Liberty, scoring one of her team's four runs.
The senior will be going on to play Division I softball at Utah State University next year and will remember the Valley title win as her number one memory from high school.
"There's nothing that can beat this feeling," Reynolds said.
Although Reynolds has been the most important piece to the puzzle for the Tribe this season, it was the younger players who stepped up during the Valley championship. Three of the four runs against Liberty were scored by sophomores. Hastin went 2-3 at the plate with two RBIs and a run scored. Fellow sophomore Maris Pinheiro added a hit and scored two runs.
Rojo believes that Hastin is just scratching the surface and has the potential to play at the Division I level in college. Their opponents have yet to see her best work and she will be a force in the Valley over the next two years.
"Next year, she's probably going to be our number one [pitcher] so you're going to see the full package of Taylor Hastin," Rojo said. "You've already seen her at bat and at third base, wait until you see her on the mound. The only one that is going to stop her, is her. That's how good she is."
Tulare Union's season will continue as they will compete for the Division III CIF Southern California Softball Championship. Their first game occurred at home yesterday after press time against Alverno Heights Academy. If they won, they will compete tomorrow at home against Fowler or Orange Vista.