CalRecycle accuses BC Recycling in Visalia of incompetence and possible fraud for being reimbursed on material which does not have proper paperwork
VISALIA – A local recycler is worried he may have to shut down operations this year as he is facing a $1.7 million fine from the state for failing to process recycled materials properly.
BC Recycling, 1043 E. Houston Ave. in Visalia, received legal documents on Aug. 3, 2020 from the California Department of Resources Recycling and Recovery, commonly referred to as CalRecycle, is seeking restitution for $1.6 million, including $1.3 in disallowed processor invoice payments, $296,400 in civil penalties and $24,400 in interest.
"We almost didn't believe it was real, like they just threw out a big number just to scare us," said Adolfo Ramirez, Jr., the son of BC's CEO Adolfo Ramirez, Sr.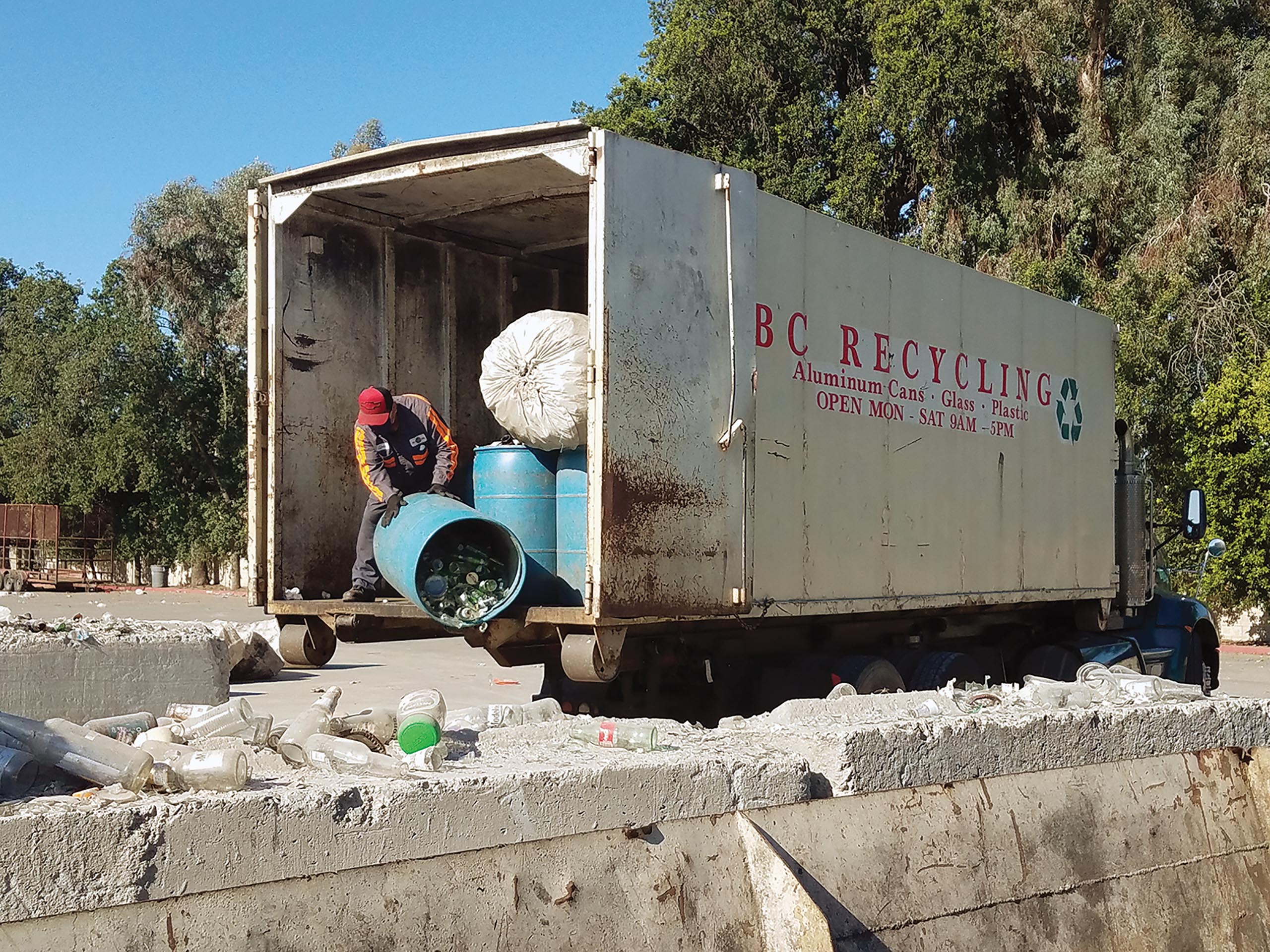 Ramirez, Jr. said his family was shocked when they received the legal document accusing his father of fraud. Ramirez, Jr. said his father was a farm laborer who wanted to do something else. He began picking up recycling containers from local grocery stores in an old Volkswagen bus and eventually opened the recycling center in 1994. With no formal business training and speaking only limited English, Ramirez, Sr. was able to build up his business adding six more recycling center locations in Visalia, Tulare, Woodlake and Orange Cove.
"He's never had a fine threaten his business," Ramirez, Jr. said. "We think this is really unfair."
The cycle of recycling
Beverage distributors pay a California Refund Value (CRV) to CalRecycle and distributors who in turn charge the CRV to dealers operating retail establishments who then pass the cost along to customers at the point of sale. Certified recycling centers pay the CRV amount to customers who return empty, eligible containers made of polyethylene terephthalate (PET). Recycling centers turn around and sell the empty containers to certified processors who reimburse them for the CRV paid to customers on top of a processing fee and administrative costs. Processors then submit claims to CalRecycle for all of those costs.
Recycling centers and processors, like BC, are required to inspect containers to ensure their CRV eligibility and cancel any refund value from eligible containers by physically changing them, such as shredding or crushing them. This prevents them from being redeemed more than once. All CRV cancellations and scrap transactions must be documented and kept for validation. In other words, everything must be weighed, recorded and then reported, based on material type, to the state. CalRecycle is authorized to recover restitution for any money improperly or illegally paid to a processor and can collect interest, levy penalties, charge recovery fees for audits and investigations and may even revoke certificates.
"A certified processor has the absolute duty to cancel all beverage containers to render them unfit for re-redemption," the Department document states. "Cancellation, like inspection, is a first-line defense against fraud."
The state conducted an audit of BC's reported quantities, record keeping procedures and records supporting filed claims for reimbursement from Sept. 1, 2014 through Aug. 31, 2016. According to the state, BC failed to cancel 1.1 million pounds of PET containers sold to another processor but claimed more than $1.3 million in CRV processing payments and administrative costs on the uncancelled containers. The Department also said BC failed to weigh and inspect 1,482 loads of beverage containers from its own off-site recycling centers.
"In the process of conducting its business, BC, actively engaged in dishonesty, incompetence, negligence, or fraud in performing the functions and duties of a certificate holder, which resulted in defrauding [Calrecycle]," the filing reads.
CalRecycle said BC was notified of the audit findings on Oct. 16, 2018 and the company responded with comments and documents in a letter dated Nov. 13, 2018. Unfortunately, the documentation provided were not viable defense and included two fabricated weight tickets which BC used to file for reimbursement with the state.
"CalRecycle is not working to shut down this recycling facility," said Lance Klug with CalRecycle's Office of Public Affairs. "CalRecycle has a responsibility to prevent fraud in the Beverage Container Recycling Program and will continue to use the fullest extent of its enforcement authority to safeguard consumer funds."
Klug said an administrative hearing is scheduled to begin Oct. 4, 2021 and will be BC's last chance to present evidence and testimony to avoid paying the $1.7 million fine.
Ramirez, Jr. said the business was already struggling to sell recycled materials, such as aluminum and plastic, to industrial processors and manufacturers who melt them down or mill them for reuse. He said his father was wanting to retire and hand off the business to him but paying the fine would mean shutting down and leaving places like Orange Cove and Woodlake without a recycling center.
"A fine like that will close down our business for good," Ramirez, Jr. said.
Re-re-redeemed CRV
In order to help save their business, the Ramirezes reached out to their local state representative, Assemblyman Devon Mathis (R-Visalia), for help. Mathis held a press conference on May 7 at the recycling processor's business to raise awareness about their family business which may have to close down forced to pay the nearly $2 million in fines.
"This fight is unnecessary, but one I'm happy to step in if it will help this business survive," Mathis said. "They provided essential recycling services all over the valley and it would be a shame to see this business shut down."
Mathis said BC Recycling should not be penalized as it has turned over all of the paperwork requested by CalRecycle. Mathis said this was a failure of CalRecycle to provide "technical assistance with paperwork and processes needed to complete in order to function as a business."
CalRecycle said it could not comment with additional information during an enforcement case beyond what is listed in the filing, but said it could reiterate what is in the complaint.
"The Department audited BC Recycling and found that the company had no documentation that proved it had canceled the beverage containers either by shipment to a location of end use or by shipping the containers out-of-state," CalRecycle spokesperson Maria West explained. "Without these documents the Department cannot validate the CRV payments made on claims submitted by BC Recycling on 1,128,274.4 pounds of PET beverage containers."
Mathis also said BC is the victim of a bad actor in the industry, Recycling Services Alliance, Inc. in Sacramento, which was shut down in 2016 for fabricating more than 44,500 weight tickets between Jan. 23, 2012 and Dec. 1, 2015. The time frame encompasses CalRecycle's audit of BC's alleged violations from Sept. 1, 2014 through Feb. 28, 2015.
"They were shutdown and then we were left hanging for what they did," Ramirez, Jr. said.
BC claims it sent the materials to Alpha Recycling Resources Services Alliance in North Hollywood where the CRV on the containers was canceled. CalRecycle said Alpha was never authorized to do so by BC and never received the material. Instead, BC shipped the material to Recycling Services Alliance, Inc. (RSA) in Sacramento but could not cancel the CRV because it had already been canceled by Alpha, so they provided false documentation to BC. CalRecycle stated in its filing there is no evidence exonerating BC of the violations.
"[T]he beverage containers sold by BC Respondents to RSA were used by RSA to further its illegal enterprise. RSA re-redeemed the beverage containers and collected CRV for a second time. Knowingly or unknowingly, BC Respondents assisted RSA with its unlawful endeavor," CalRecycle wrote.
The weight tickets were ineligible for reasons ranging from missing paperwork, illegal reasons for reprinting a ticket, issuing corrections with the same serial number as the original and using a broken or unauthorized truck scale. RSA also added 200 pounds to all seven of the weight tickets it issued to another recycling center, Diaz Recycling, on one day in November 2015. These fraudulent claims resulted in $176,523 paid to RSA on Dec. 2, 2015. One of RSA's managers, Maximina "Maxi" Perez, also admitted during a telephone interview that she frequently added weight to the RSA weight tickets and changed dates and times on reprinted tickets.
"RSA Respondents actively and intentionally engaged in an illegal enterprise with the goal to defraud [CalRecycle]," the filing states.
CalRecycle is seeking more than $541 million from RSA including $313,000 in costs and fees, $80.3 million in restitution for payments made on invalid, illegal and fraudulent claims, more than $1.4 million in interest, and civil penalties on nearly 92,000 violations totaling $459 million. The state also ordered them to permanently cease and desist from participating in California's beverage container recycling program and the sale, transfer or storage of containers, canceled or not and regardless if CRV was paid or is being claimed.
No warning
West said the problem is that BC's claims cannot be verified when it comes to RSA because CalRecycle never received any of the documentation showing proof the beverage containers were canceled.
"The Department does not know what happened to the containers after they were delivered to Recycling Services Alliance, Inc., or to Alpha Recycling Resource Services Alliance," West said.
Ramirez, Jr. said BC has been doing business the same way for nearly 30 years and has never received a notice of violation, a fine or even a warning the business might be in violation. He said it would have been helpful if CalRecycle had warned them, gone over the technical aspects of the process to ensure compliance and then given the business an opportunity to correct the issue before facing a fine.
"You would think they would give us a warning but in this case it was just, 'here is the fine,'" Ramirez, Jr. said.
As a certified processor, West said BC Recycling understands it has the "absolute duty" to cancel CRV on all beverage containers upon which it files claims. In fact, CalRecycle reminds processors periodically how to cancel beverage containers and what types of documents must be created and obtained to prove cancellation.
For example, the Department sent notices of process and record requirements to all certified recycling centers and processors explaining the law's cancellation requirements on Dec. 7, 2007, Jan. 20, 2012, Dec. 2, 2014, prior to the time period stated in the BC filing, and again on Sept. 18, 2017 before the state notified BC of the audit findings in its report.
"Processors know what they need to do to comply with the law," West said.