'80s Arcade Pub Crawl
July 16, 2022 @ 4:30 pm

-

9:00 pm

$12 – $20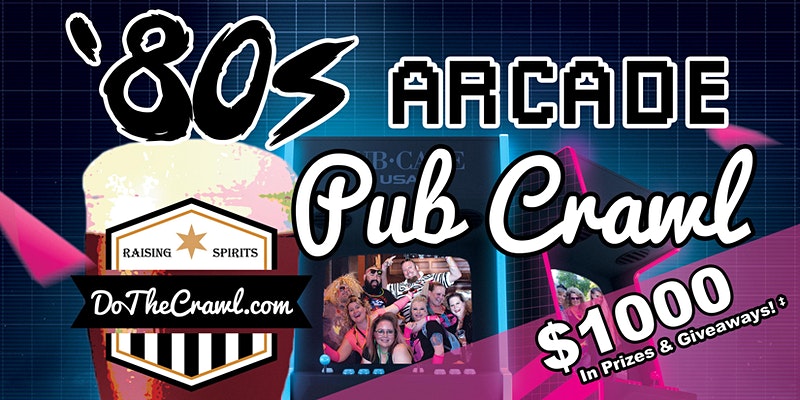 Get on your '80s gamer gear and go hit the downtown with DoTheCrawl.com at our '80s Arcade Pub Crawl. Whether it's a T-shirt with your favorite arcade game, a Donkey-Kong costume, or leg warmers and a side tail, we can't wait to throwback to the '80s and support YOUR DOWNTOWN BUSINESSES together! This '80s THEMED event will have multiple chances to win prizes via our social media games and our best dressed contest! The '80s Arcade Pub Crawl is totally radical to the max!
Games, prizes, photo ops, and more!
At the '80s Arcade Pub Crawl, you will get drink specials and no cover charge with your wristband at all locations.* Food specials are also available at certain participating vendors.* Experience a group environment and different atmospheres at each place as you explore downtown together. At the '80s Arcade Pub Crawl event you will receive a digital schedule to follow, so charge those phones! We encourage you to follow your schedule for a shared social experience.
You will find the participating pub crawl locations, posted on our website:
https://dothecrawl.com/Visalia/80s
Get your gal pals, your BFF's, your co-workers, or your favorite family members and get ready for another Mega Big Time, good time at the '80s Arcade Pub Crawl. Remember: This is an '80s THEMED Pub Crawl Event so dress up is ENCOURAGED, and fun (duh), but it's not required.
*** Tickets are ONLY AVAILABLE through Facebook, Eventbrite, or our website! ***
No tickets will be sold at the door!
We are BRINGING THE PARTY with a new, low-contact, pub crawl experience. To get the most out of every Do The Crawl Event, here is what you need to know:
1. This Pub Crawl Event is '80s themed; we encourage everyone to WEAR something '80s themed
2. We will have a best dressed contest via our website & Facebook with a chance to win AWESOME PRIZES so WEAR something '80s themed†
3. Show up to check-in on time, 4-5:30 PM (this is when our check-in activities happen)
4. We have Do The Crawl check-in activities such as
Photo Ops
Games
Giveaways
Merch & More
5. You NEED to have AT LEAST ONE mobile device with internet access for you and/or your group (the people you came with)†
6. You use your mobile device† to conveniently load and take with you
Maps
Schedules
Specials & More
(No paper is better for the environment and less for you to carry, YAY!)
7. We have social media games on Facebook, Instagram, & Twitter for even more chances to WIN PRIZES†
8. Follow your assigned schedule to be part of the party, it's a pub crawl after all
9. You can stop at our Pub Crawl Event food locations and get yummy specials ANYTIME during our Pub Crawl Event. MMMMMMMM… FOOD SPECIALS
10. Enjoy $5 DRINK SPECIAL(S) at ALL Pub Crawl Event drink locations during the event!
You must be 21 years of age or over to participate.
Always have a sober driver, enjoy responsibly.
Please visit our site for further details:
https://dothecrawl.com/Visalia/80s
Be sure to read our FAQ!
*Although our participating locations will do their best to not run out, drink and food specials are subject to availability. All drink and food specials are valid during event hours, where applicable.
†Mobile device with internet access required, data rates may apply. Charge up your device and consider bringing a battery backup, to make sure you don't miss out on all the fun!
‡Prizes are awarded across all participating towns (participating towns listed at dothecrawl.com). Gift card prizes are awarded via the social media platform the game/contest is played on, and by a valid email address, only. Prizes must be must be claimed by direct message on the corresponding social media platform within 72 hours of the end of the event.
All locations are subject to capacity restrictions. Participating locations & check-in location are subject to change. Be sure to check our website to confirm your check-in location, the day of the event.
Please read our COVID-19 warning here: https://dothecrawl.com/covid-19
For more info, visit https://dothecrawl.com/Visalia/80s
Related Events